Patron
Experiences frequent chest pains from watching Arsenal
5 pts
Mesut Özil's Improved Physicality
Posted by Patron over 8 years ago ·
1 replies
Running stats
That's been evident in his running stats. Ozil has covered more ground than anyone at Arsenal over the past two months. He was the top sprinter on his return to the XI against Aston Villa, ran the furthest in the next home game and topped both charts in his third game at the Emirates.

It is those intense runs at speed that are needed in order to find the space when attacking. They are the movements that make the difference and they are precisely the ones that can become less frequent when a player is suffering from fatigue.

That became an issue last season as Ozil's form faded after Christmas. The hope this time around is that his injury-enforced absence might have played its part in refreshing the 26-year-old following his World Cup exertions.

"I worked on my upper body as well as paying attention to my nutrition," said Ozil. "I underwent treatment to get myself fit as soon as possible and to prevent the injury from returning. I'm on a good path now. I worked really hard and I think it shows in training and in matches that I'm fresher."
Freshness is Key
This freshness is an especially important quality in a player who needs to be at full tilt to perform at his best. That was certainly something recognised by Jose Mourinho in substituting him at Real Madrid – Ozil never played the full game more than 10 times in any of his three La Liga seasons.

Perhaps that played its part in causing Ozil to finish last season in such underwhelming fashion. His 12 Premier League appearances after Christmas yielded only one goal and two assists. He has managed to double those post-Christmas numbers in just half the games this time around.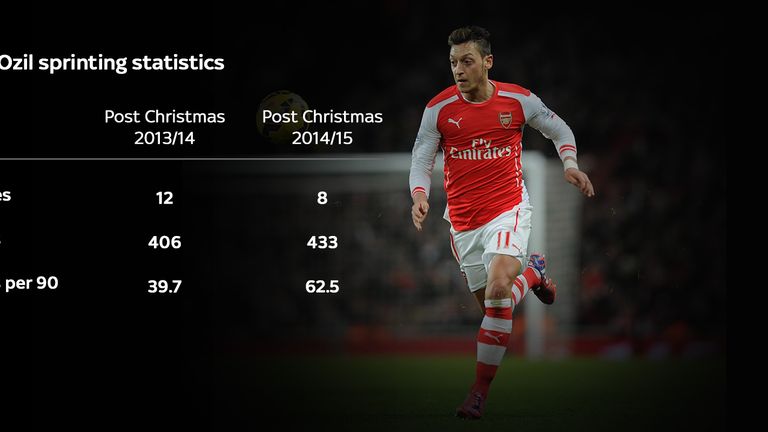 The sprinting stats are encouraging too. Ozil averaged under 40 sprints per 90 minutes in the second half of last season. Over the corresponding period this season, he's averaging well over 60 sprints per game.
1 Comments